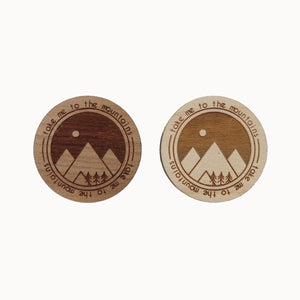 These magnets are a stylish way to accessorize your fridge. 
They also can be used as needle minders!
They are sold as a set of 2 and each measure approximately 1.25" in diameter and are 1/4" thick. 

You will receive;
x 2 take me to the mountains magnets
x 1 cherry and x 1 maple wood.
They are made from veneered MDF core material which insures durability.

They each have a strong rare earth magnet glued to the back.

Please note, grain and tone may vary slightly due to the natural properties of wood, and the handmade quality of our work.